Time to Give it Back!

[LINK]
Spanish Jesuits and Franciscans evangelized California in the sixteen and seventeen hundreds. The Masonic revolutionary Mexican government stole their missions, beginning in 1834. Americans stole upper California from the Mexicans between 1846 and 1848, when the territory was surrendered to the United States in the treaty of Guadeloupe Hidalgo on 4 July 1848 for $15,000,000. It is time to give it back—and let them keep the $15,000,000.
Just about a year ago, Three Billion dollars were authorized by the wayward state for experimentation on five day old human embryos with the support of nominally Catholic Republican Governor Arnold Schwarzenegger. The "Governator" certainly holds anti-Catholic policies on human life—his campaign site has him saying: "I support a woman's right to choose. I support the state's current family planning programs, and as governor, would make no changes to this policy." [LINK]
The very same nominally Catholic Republican Governor Arnold Schwarzenegger signed a bill, SB777, into law on October 13th, banning the phrases "Mom and Dad," and "Husband and Wife" from use in the California government school system. The phrases are said to be insulting to homosexuals, and the bill "bans anything in public schools that could be interpreted as negative toward homosexuality, bisexuality and other alternative lifestyle choices." The bill also requires that boys and girls be allowed to use the restrooms and locker rooms of the opposite sex. The Governor also signed AB394, providing for the indoctrination of teachers and parents in what is described as "anti-harassment training," and funding for publications and mailing of related material. Bill AB14, also signed, prohibits funding to any private organization which does not follow the immoral policies of the State.
In years gone by, one might have seen such legislation as directed against the Catholic Church, which, of course, held to a hign moral code.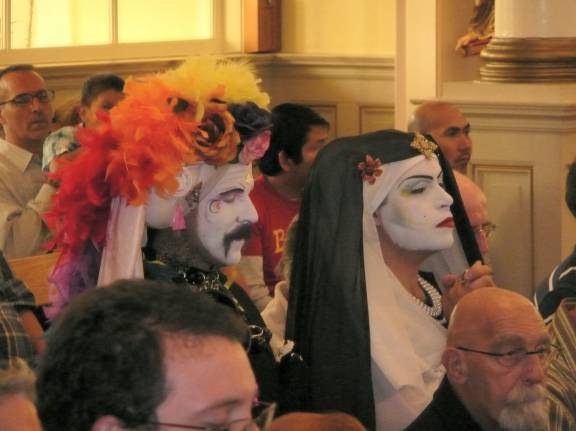 Communicants at Holy Redeemer Church, Archdiocese of San Francisco
October 7 AD 2007, Feast of the Holy Rosary
[LINK]

Celebrant of the Mass (the one on the right),
The Most Reverend George Niederauer
Archbishop of San Francisco
[LINK] [LINK]

The Faithful at Holy Redeemer
[LINK]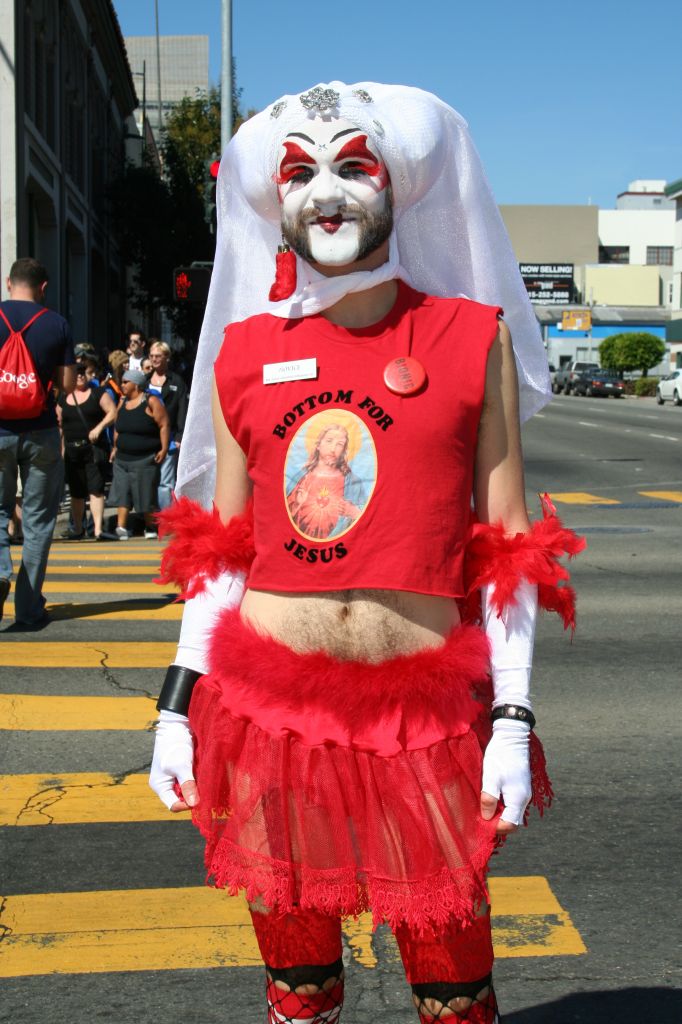 Church Participant at the Folsom Street Fair
[Too Nasty to LINK]
It is time to give California back to the Indians!
in XTO,
Fr. Brusca
Send him mail
18 October AD 2007
This article can be viewed full screen at
http://www.rosarychurch.net/comment/give_it_back.html