Q&A
From the May AD 1991
Our Lady of the Rosary
Parish Bulletin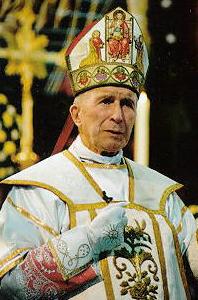 The Most Reverend Marcel Lefebvre, RIP
November 29, 1905—March 25, 1991
With sadness, we report the death of Archbishop Lefebvre on March 25th, just after our April issue had been distributed. The Archbishop died at the age of 85, in Martigny, western Switzerland, a week after undergoing emergency surgery for abdominal cancer.
Ordained to the Priesthood on September 21, 1929, and consecrated bishop over forty three years ago (September 18, 1947) by Achile Cardinal Lienart, the Archbishop enjoyed a long and productive career. He served Pope Pius XII as Apostolic Vicar for French Africa for fifteen years. He was installed as Archbishop of Dakar by Cardinal Tisserant on September 14, 1955, resigning this see only in 1962 at the request of Pope John XXIII, to take over the see of Tulle in France.
Among the Fathers of the Second Vatican Council, Archbishop Lefebvre was one of the few prelates to see the danger brewing in the so-called "Spirit of Vatican II." Appointed in 1962 to serve a twelve year term as Superior General of the Holy Ghost Fathers, he resigned six years early in 1968, saying, "I preferred to hand in my resignation. I did not want to sign the acts of that General Chapter that was demolishing our Congregation of the Fathers of the Holy Ghost."
During June of 1969, the Archbishop established a seminary at Ecône and organized his Sacerdotal Fraternity of St. Pius X as a Pius Union in the Diocese of Fribourg. These acts were confirmed by Fribourg's Bishop François Charrière on August 18th, 1970 and November 1, 1970.
The events which followed must have made the Archbishop's missionary days in Africa seem tame by comparison. 1970 brought with it the introduction of Pope Paul's new Mass, a radical compromise with Protestant theology. The Vatican began making efforts to close Ecône, and to silence the Archbishop. During 1975, amid dubious proceedings, the Fraternity was suppressed by the new Bishop of Fribourg, Msgr. Mamie. For his efforts, Archbishop Lefebvre was suspended from all priestly functions in 1976 by Paul VI—which suspension he quite correctly ignored.
He continued to train candidates and to ordain them to the priesthood during this period. He did, however, refuse to consecrate bishops to succeed himself, for fear that this would be interpreted as a complete rupture with the Holy See. April of 1983 marked a period of internal dissention in the Society of St. Pius X, as it called itself in America, and the expulsion of nine priests in the United States; and, shortly thereafter, the defection of two more immediately after ordinationat Ecône. November 1983 brought a condemnation by Archbishops Lefebvre and Antonio de Castro-Mayer of the new Code of Canon Law, just issued by Pope John Paul II.
In 1984, in an attempt to undercut the efforts of all traditional priests and bishops, the Vatican issued an indult allowing the traditional Mass under very restrictive circumstances. During the next few years, relations with the Vatican improved to the point of reaching a compromise which would have reinstated the Archbishop. At the last moment, the Archbishop withdrew his approval, and laid plans to consecrate four new bishops. This accomplished on June 30, 1988, he was "excommunicated" immediately by Pope John Paul II, who acted in violation of canon 1323.5 of his own 1983 Code of Canon Law!
The Archbishop lived three stormy years longer, and died on the Feast of the Annunciation of our Lady—a beautiful and fitting end to any priestly career.
Ad multos annos!